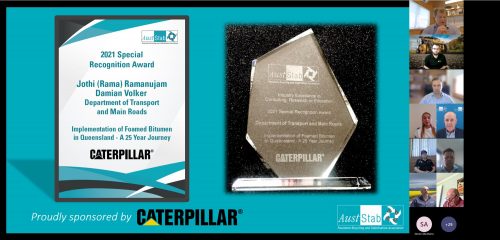 AustStab 9th Awards of Excellence Winners Announced
The 2021 AustStab Awards of Excellence winners were announced in an online Awards Presentation event held on 20th October 2021.
The Awards celebrate leading practice and innovation in pavement recycling and stabilisation as well as the emergence of new talent in the industry and are keenly anticipated each year.
Category 1: Work Health and Safety
Winner: Greg Kowalczuk, Stabilised Pavements of Australia – Control of Respirable Dusts
Highly Commended: David Lansbury, THE Mining – Hydraulic Push Bar Caterpillar RM500 (Hydro Bar)
Highly Commended: Mark Filsell, Hiway Stabilizers – Hot Bitumen Shield
Category 2: Industry Excellence in Consulting, Research or Education
Winner: Dr James Grenfell, ARRB Group – National Design Procedures for Lightly Bound Cemented Materials in Flexible Pavements
Highly Commended: Dr Negin Zhalehjoo, ARRB Group – Characterisation of the Fatigue Performance of Foamed Bitumen Stabilised Materials
Special Recognition Award: Damian Volker and Jothi (Rama) Ramanujam, Queensland Department of Transport and Main Roads – Implementation of Foamed Bitumen in Queensland – A 25 Year Journey
Category 3: Excellence in Sustainability
Winner: Stuart Baverstock, Central Coast Council NSW – Murrawal Road Upgrade Project – Striving for 100% Recycling
Highly Commended: Alvaro Amorim, Transport Canberra and City Services – Northbourne Avenue, Canberra
Category 4: Excellence in Pavement Recycling and Stabilisation in Local Government
Winner: Steve Button, Richmond Valley Council – Long Term Performance of Bound Insitu Stabilised Pavements
Highly Commended: Mahbub Hossain, Campbelltown City Council – Pavement Recycling in Campbelltown City Council
Category 5: Young Stabiliser of the Year
Winner: Hayden Foster, Foreman, Stabilised Pavements of Australia
Highly Commended: Stefanie Lesser, Senior Operational Coordinator, Downer EDI Works
Congratulations to the winners and thanks to all the nominees and finalists.
Thanks also to our Awards sponsor Caterpillar.

Read the Finalists' submissions for the 2021 AustStab Awards of Excellence by clicking on the titles below.
Category 1 – Work Health and Safety
To view the submissions click on the titles below:
David Lansbury, THE Mining – Hydraulic Push Bar Caterpillar RM500 (Hydro Bar)
David Berg and Jason Parrish, Stabilised Pavements of Australia – No Reversing Insitu Recycling
Greg Kowalczuk, Stabilised Pavements of Australia – Control of Respirable Dusts
Mark Filsell, Hiway Stabilizers – Hot Bitumen Shield
Category 2 – Industry Excellence in Consulting, Research or Education
To view the submissions click on the titles below:
Scott Young, Stabilised Pavements of Australia – Development of a New Mix Design Procedure for Basegrade Stabilisation
Dr Negin Zhalehjoo, ARRB Group – Characterisation of the Fatigue Performance of Foamed Bitumen Stabilised Materials
Dr Sameera Pitawala, Monash University – A Study of Fatigue Damage of Foamed Bitumen Stabilised (FBS) Materials for Pavement Design
Dr James Grenfell, ARRB Group – National Design Procedures for Lightly Bound Cemented Materials in Flexible Pavements
Damian Volker and Jothi (Rama) Ramanujam, Queensland Department of Transport and Main Roads – Implementation of Foamed Bitumen in Queensland – A 25 Year Journey
Category 3 – Excellence in Sustainability
To view the submissions click on the titles below:
Roberto Espinosa, Fulton Hogan – Towards Marginal Gravels for Sustainable Foamed Bitumen Stabilisation
Alvaro Amorim, Transport Canberra and City Services – Northbourne Avenue, Canberra
Stuart Baverstock, Central Coast Council NSW – Murrawal Road Upgrade Project – Striving for 100% Recycling
Errol Schweiger, Downer EDI Works – Stabilisation of Floodways on Adventure Way, Innamincka, SA
Thomas Gauci, Downer EDI Works – Great Ocean Road Pavement Rehabilitation
Category 4 – Excellence in Pavement Recycling and Stabilisation in Local Government
To view the submissions click on the titles below:
Mahbub Hossain, Campbelltown City Council – Pavement Recycling in Campbelltown City Council
Steve Button, Richmond Valley Council – Long Term Performance of Bound Insitu Stabilised Pavements
Darrin McNeilage, City of Gold Coast & & Scott Young, Stabilised Pavements of Australia – Foamed Asphalt in Palm Beach: A Queensland First
Jed Martin, Hiway Stabilizers – Tooloom Road Upgrade, Tenterfield Shire Council
Zirak Kakar, Downer EDI Works – King Street Flinders Pavement Rehabilitation, Mornington Peninsula Shire Council
Category 5 – Young Stabiliser of the Year
To view the submissions click on the titles below:
Stefanie Lesser, Senior Operational Coordinator, Downer EDI Works
Hayden Foster, Foreman, Stabilised Pavements of Australia
Andrew Wyett, Stabilisation Crew Member, Downer EDI Works
Josh Uebergang, Project Engineer, Hiway Stabilizers

Read about CAT paving equipment here
https://www.cat.com/en_AU/by-industry/paving.html